The Master Tailors
Frank Perri – Master Tailor & Coat Maker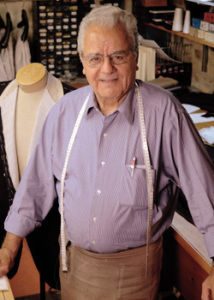 Watch Frank Perri's swift and graceful fingers in action and you'll know his coat making is world class. For over forty years his attention to the fine stitches, careful cuts and precise piecing of fabrics has kept hundreds of clients looking their best. His bench made suits are truly an indulgence that the refined client appreciates and enjoys wearing.
Born in Cosenza, Italy, Frank began learning the trade at the age of 6 along side one of the town's master tailors. At the age of 28, he traveled to the U.S. with his wife and family to make a better life for all of them. His career has included making clothes for many of Chicago's top business leaders and clients who appreciate the best in clothing. Drop by our showroom and see how Old World tailoring is alive at Montopoli Custom Clothiers.
Frank Zaccaria – Master Tailor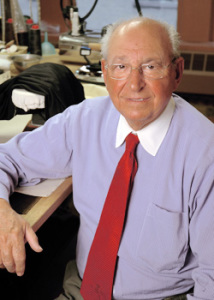 It's a good sign when the tailor working on your clothes is always well dressed himself. That's how Frank Zaccaria arrives for work each day. Applying his master tailoring skills, he works on some of the finest garments for Montopoli Custom Clothier clients. His tailoring career started at the old age of eight, working along side a master tailor in Sicily, Italy. Zaccaria honed his tailoring skills for ten years in Milan before venturing to the U.S. for a change of life. His dedication to crafting fine garments shows in all his much appreciated work. Come visit Montopoli Custom Clothiers and see art in action.