Jeff Landis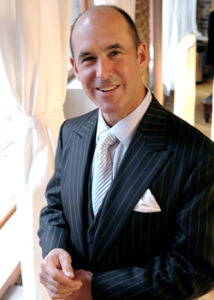 Jeff Landis has always been a cut above the rest when it comes to exceptional clothing. He is the owner and leading personal clothier of Montopoli Custom Clothiers. With over 30 years in the custom clothing business, his talent to create extraordinary wardrobes for those who prefer individualized attention and fine clothing is why so many clients look to him for guidance.

Jeff Landis prides himself as always being available for appointments whether it is at the client's office or home or in Montopoli's sleek 2,700 square foot showroom located downtown in Printer's Row. As one of Chicago's leading personal clothiers, he is known by many of the city and nation's top business leaders.

Landis has been awarded with the industry's prestigious National Research Garment Award from the Custom Tailors and Design Association. Landis has also been very active in the clothing industry, serving on the board of The Custom Tailors & Design Association for many years.

His sense of style and attention to detail has been recognized and is featured in the 2007 fall fashion issue of the internationally esteemed Robb Report magazine.